If you find you are having to remove and replace a full transmission and you ask yourself "What Transmission do I have in this vehicle?", the new Complete Transmission Lookup Tool from Transend is here to help simplify what would have been a complex vehicle repair. When you find your automatic transmission and order from Transend you can expect the highest quality and largest selection of transmission and driveline parts. This search allows you to:
Search for and identify your transmission by VIN, License Plate, or Year/Make/Model
Compare prices of remanufactured units
View available warranty options
Locate a transmission near you for same or next-day delivery where available
View the tutorial here:
Identify the Transmission You Have
We want to make your transmission search as simple as possible. That is why we offer multiple ways for you to search for your transmission. You can find the exact transmission you have. Search transmissions by vehicle's VIN, License Plate, or Year/Make/Model information. Once you initiate your search you can select the appropriate transmission TAG to ensure accuracy.
Compare Transmission Prices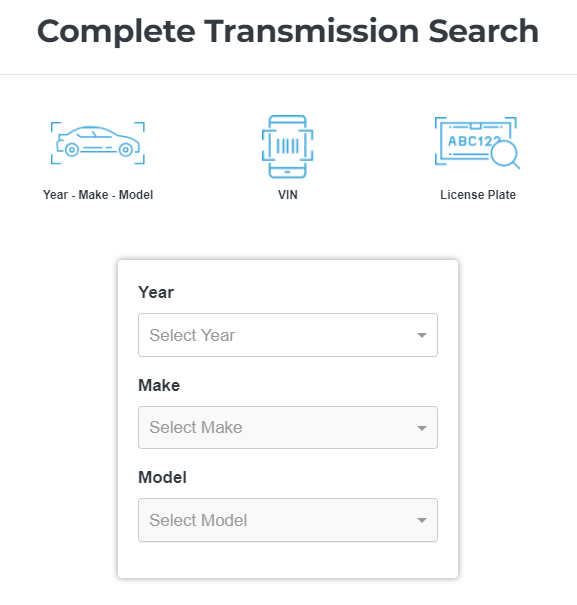 Complete Transmission replacement can be one of the most expensive jobs that you will deal with. You want to be able to present your customers with options. We offer a large, high-quality selection of remanufactured transmissions that you are used to from Transtar.
See pricing for specific brands you may be looking for:
Berkeley Standard
Certified
Moveras
AER Precision
American Transmission
Transmission Warranty Registration
After purchase, register for a warranty for your remanufactured transmission. Answer a few simple questions about where, when, and how the transmission was installed, and then choose from a Standard, Premium, or Ultimate warranty. After that, the unit is protected. You can submit any claims directly on Transend.
Same Day Transmission Delivery
Our nationwide network of warehouses and distribution centers allows for delivery of your complete transmission when needed. Many units in stock are available for same-day or next-day delivery. You get the job done quickly and keep customers happy.
The Complete Transmission Lookup Tool from Transend is here to make your search and order simple and fast when removing and replacing a transmission. Your customers appreciate the time and money you save them when the job is done right. Try it today at https://transend.us/search/unit