When your customer comes to you for air conditioning repair, Transtar is here to help with a full line of A/C components and tools to simplify your complex vehicle repairs.

We have parts ready for next-day delivery at stocked locations and cover thousands of vehicles from model years from the 1970s to today.

There is the added benefit of shopping 24/7 on transend, an industry leader in parts lookup and ordering platforms to make sure you get the right parts for every job.

Our A/C components meet or exceed OE standards and come with a world-class warranty.
FIND PARTS FAST
Just enter the VIN, license plate or year/make/model to ensure part accuracy. Instantly narrow your search by brand, price, and availability.
ORDER PARTS 24/7
Same- or next-day delivery to get vehicles off your lifts sooner.
---
THE BASICS
OF AIR CONDITIONING REPAIR:

When replacing a compressor, always swap with a receiver drier/accumulator and an expansion device.
Replace hose assemblies with mufflers.
Perform closed-loop flushing of all non-replaced components to remove all debris.
Systems with parallel flow condensers must be replaced as these cannot be flushed.
Install proper amount and type of lubricant and refrigerant.
Perform system leak test.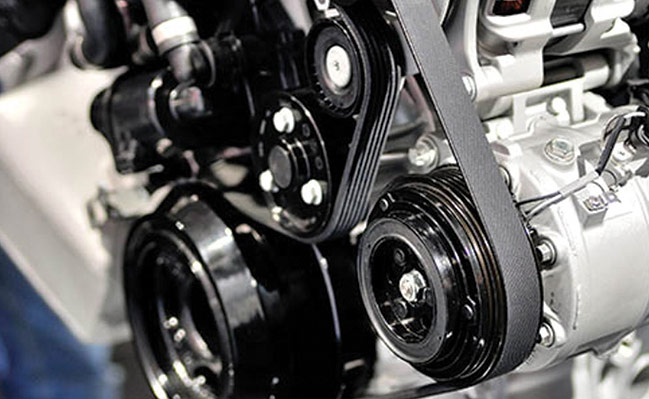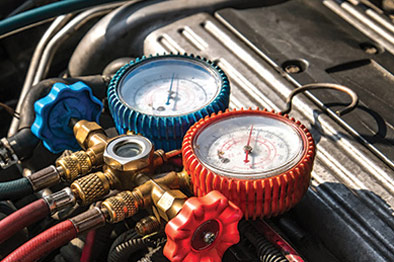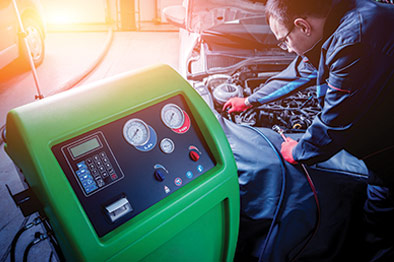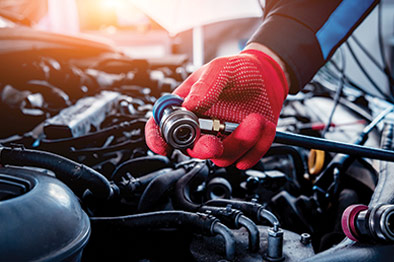 Tips to ensure top-quality work
Leaks or blockages in your air conditioning system will eventually deprive a compressor of oil, resulting in lockup and failure.
Airflow in the condenser is critical for heat removal. Look for:

Excessive dust or dirt accumulation
Fin damage

Receiver driers should be replaced annually as a normal preventative maintenance item.

Driers must be replaced every time the system is opened.
It's good practice to mark the install date on a new drier.

Expansion valves are prone to system contaminants due to very small valve openings.
Filter drier replacement during scheduled maintenance will prolong the life of the evaporator core.
Evaporator cores become dirty inside as the residual debris from normal compressor wear will build up over time.
Flushing or replacement of an evaporator core is recommended anytime the system is opened for service.
When flushing an air conditioning system, flush one component at a time in a closed loop to recover the flush or in an open loop the opposite direction of the normal refrigerant flow until the flush flow is clear.

Check local environmental regulations before flushing in an open loop.
Any flush left behind will contaminate and dilute the air conditioning system oil charge.

Catastrophic compressor failure sends metal debris throughout the entire system.

If the debris is not properly removed, it will continue to cause harm to the replaced components.
One of the most complete A/C
and heat Exchange lines on the market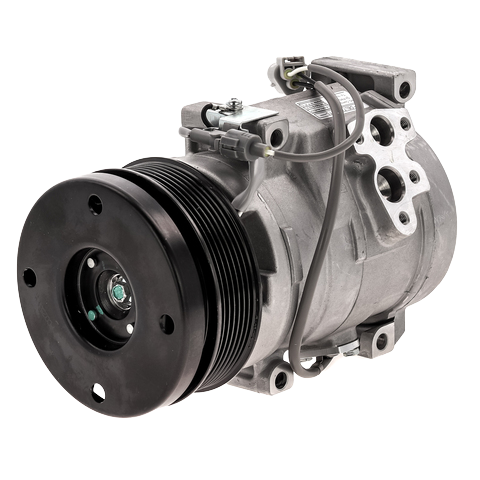 A/C Compressors
Below are just some of the A/C Compressors we have in stock across the U.S.:
ACC-21127 2000-13 CHEVROLET SILVERADO 1500, 00-14 TAHOE; 00-13 GMC SIERRA 1500
ACC-1003 2007-14 HONDA CR-V; 07-12 ACURA RDX
ACC-0782 2013-18 NISSAN PATHFINDER, 09-14 MURANO,MAXIMA; 14-18 INFINITI QX60
ACC-0250 2006-11 HONDA CIVIC
ACC-3552 2007-10 FORD F-150, 08-16 F-250 SUPER DUTY, 07-14 EXPEDITION
ACC-0241 2005-08 HONDA ODYSSEY,PILOT; 03-06 ACURA MDX; 06-08 HONDA RIDGELINE
ACC-1004 2008-13 NISSAN ROGUE, 14-15 ROGUE SELECT
ACC-0650 2007-12 NISSAN ALTIMA,SENTRA
ACC-0705 2008-17 HONDA ODYSSEY, 08-15 PILOT; 07-13 ACURA MDX; 09-14 HONDA RIDGELINE
ACC-3028 1997-06 FORD F-150, 99-07 F-250 SUPER DUTY,F-350 SUPER DUTY,F-550 SUPER DUTY

Accumulators/Receiver Driers
Below are just some of the Accumulators/Receiver Driers we have in stock across the U.S.:
ACR-17-0202 2005-10 ACURA RL,09 BUICK
ACR-0178 2004-09 NISSAN,INFINITY
ACR-0012 1999-00,HUMMER, CHEVY TRK, CADIV-8
ACR-0021 1999-00,FORD TRKV-8, V-10, DSL
ACR-0109 2003-08,HONDAV-6, I-4
ACLL-01291 2005-07,DODGE TRKV-8, V-6, DSL
ACR-0483 2004-06,LINC, FORD TRKV-8
ACR-3035 1992-99,VARIOUS MAKESV-8, V-6, V-10, I-6,
ACR-0055 2001-06,CHEVY TRK, CADIV-8
ACR-0933 2006-09 HYUNDAI,KIA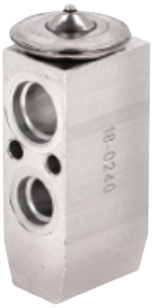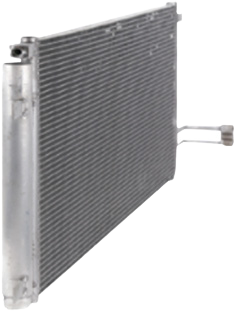 Condensers
Below are just some of the Condensers we have in stock across the U.S.:
ACCN-04283 2014-18 CHEVROLET SILVERADO 1500; 14-18 GMC SIERRA 1500; 15-20 CHEVROLET TAHOE
ACCN-03893 2011-20 JEEP GRAND CHEROKEE; 11-20 DODGE DURANGO
ACCN-03794 2011-15 CHEVROLET CRUZE, 13-15 MALIBU, 14-20 IMPALA; 10-16 BUICK LACROSSE
ACCN-04953 1999-13 CHEVROLET SILVERADO 1500; 99-13 GMC SIERRA 1500; 00-14 CHEVROLET TAHOE
ACCN-04128 2013-20 NISSAN ALTIMA, 16-20 MAXIMA